Monitor Your Health from Home with EcareRx Telehealth and Wellness Portal
Home health Monitoring & Doctor's Visits from Home                MyHealth Portal - Health & Wellness Gamified
 
Hello and welcome to eCareRx Telehealth and Wellness Portal.  We are delighted to put health technology to work for you in the home, and eCareRx is excited to introduce new wearable tech, EMR and home medical devices that will empower you to manage your health and wellness from the comfort of your own home.  So lets get to it.  The fun is only beginning...
MyHealth Portal
When you sign up via our secure, HIPAA-Compliant Telehealth and Wellness Portal, you not only get to manage your diet, sleep and exercise, but you will automatically have access to your own MyHealth account where you will be able to manage your Personal Health Records (PHR), challenge your peers, family members, co-workers and friends to healthy competitions, aimed at improving health and enhancing mental wellbeing. Sync your Fitbit, Apple watch, etc., to your My-Health Portal to automatically update your health status. Join health challenges or create your own, and get kudos, reward points and more. The Healthcare in Motion Challenge promises to be a fully gamified and fun experience designed for everyone. The Covid-19 pandemic is changing the way we do healthcare, but with EcareRx health and Wellness portal on your side, managing your health has never been more exciting.
NB. When you first log into your Health portal, you are encouraged to take the Health Risk Assessment (HRA). It a number of questions to answer about your current health and lifestyle. Please answer as truthful as possible. This will help the system to make vital decision about your health in the background, and make individual recommendations for managing your health going forward. It is similar to the questions your doctor or nurse will ask regarding your health history.
Ready to get started? Please click the Subscribe button below. A one-time set up fee of US $10 and a monthly subscription fee of US $15/mth applies.  Apply now and get $5 off your first month subscription. Hurry!
Doctor's Portal
EMR/Telehealth Portal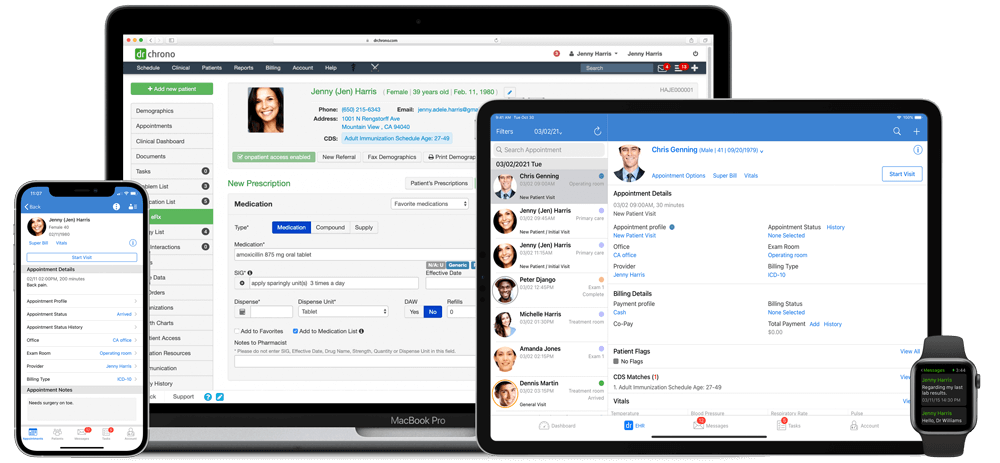 Great news! The long awaited EMR/Telehealth/Practice Management Platform for doctors is here. Paper records are now a thing of the past.  Electronic Medical Records (EMR) are here to stay. Now, be ready to ride the next wave of the pandemic with Telemedicine and EMR for your specialty.  Get listed for free in our Medical Providers' Directory.
EcareRx has partnered with DrChrono to bring you a fully integrated EHR/EMR solution for your specialty.  Chart, store and retrieve your patients' records electronically from anywhere and at any time. Conduct Telehealth Visits (eVisit) via video calls. Price your services, set up your availability and collect payments for you online consultations. See patients in your office or virtually. Either way, your patients get the attention they need fast, without being bogged down by paper records.  It's the PPE you have been missing.  Get suited up to ride the next wave of the pandemic.  Pricing starts at $249 per provider per month.
Corporate Wellness Program
Businesses, community organizations, church organizations, educational organizations, etc., can enroll their members/employees into a private, white-labeled corporate wellness program specific to their organization.  Allow members/employees to stay motivated and healthy while earning company-level rewards points for reaching or surpassing organizational goals or targets.  Members can be rewarded for going the extra mile to enhance customer service, for example, or for surpassing sales targets etc.  Rewards can be tangible, intangible, or both.  Company HR Departments can set up challenges to enable employees to compete against each other to win company-approved prizes and rewards.  Thus motivating staff to meet corporate goals while having healthy fun working together.
Wish to explore this program further for your organization?  Contact us for more information.  Tel./WhatsApp 473-534-3927, or email info@ecarerx.me
Tele-Visits
Visiting a doctor's office or clinic to receive care, or enduring long wait times at the Emergency Department for treatment of non-critical emergencies could eventually become a thing of the past.  Now with our Telehealth and Wellness Platform, patients can see a doctor at anytime 24/7/365 from the comfort of their home.  We are seeking to partner with the Ministry of Health to provide a higher level of care where social distancing protocols eliminate the need for patients to endure long wait times and crowded spaces.  You may soon be able to book a visit at anytime and be in a video chat with your preferred doctor on demand. Find a local doctor.
Remote Health Monitoring
With Covid-19 on our heels, eCareRx is changing the way healthcare is delivered and consumed from now on. We are making available Smart Medical Device Kits that patients can purchase to monitor their vital signs at home (or they can use devices that they already own). Readings are automatically uploaded into their Medical Records where their medical provider can manage their care remotely.
Home Hospital Care
Our technology is making it possible for hospitalized patients to opt to be treated at home. The decision will be made by their medical care team based on the patient's overall health status.
Elderly Care
More than ever, our seniors demand the right to age gracefully in the familiar setting of their home.  And EcareRx is bringing technology services aimed at making care available to seniors in their home.  No computer skills needed.  
Remote Health Monitoring Devices
 Your At-Home Medical Device kit contains everything you need to monitor your health and wellness from the comfort of your home. 
Home Steamer Pack
EcareRx Online Store Products
MyHealth Portal stacks all your health & wellness data into one place. Now you're the king of your own health.  Rule well.  Subscription fee US $15.00/mth